La actriz y cantante británica Cynthia Erivo, nominada al Oscar por su actuación en el drama biográfico Harriet, interpretará a Franklin en la presente temporada de la serie Genius, por la señal Nat Geo.
Genius: Aretha se presenta como la primera y única biografía autorizada.
La serie "Genius: Aretha" se emitirá en ocho capítulos a partir del 25 de mayo en los  Estados Unidos.
El ciclo  va por su tercera temporada tras explorar otras figuras como Albert Einstein y Pablo Picasso, interpretación que le valió una nominación a los Emmy a Antonio Banderas.
De esta manera, Franklin será la primera mujer que se retrate en esta producción.
Además de Erivo, forman parte del elenco Courtney B. Vance, como padre de la protagonista, David Cross, Malcom Barrett, Pauletta Washington, Rebecca Naomi Jones y Omar J. Dorsey
Avance serie Genius:Aretha
Se trata de una serie biográfica sobre la vida y la trayectoria artística de la reina del soul, al mismo tiempo que indaga sobre cómo se convirtió en una fuente de inspiración para el arte y la cultura musical contemporánea. "Aretha ha sido una fuente de inspiración para mí desde que era pequeña. Su fortaleza, pasión y espíritu son más que evidentes en su legado imperecedero, no solo como artista, sino como icono humanitario y de los derechos civiles", señala Erivo, y añade "todo lo que sé y he aprendido sobre lo que es un artista y el poder que reside en ello ha venido influenciado por lo que ha hecho Franklin. Me siento una privilegiada por compartir al mundo su genialidad".
Cynthia Erivo ha demostrado sus habilidades vocales y actorales en los escenarios.  Es conocida por su interpretación de Celie en la obra de Broadway 'The Color Purple' (2015), que le valió el Premio Tony 2016 a la Mejor Actriz en un Musical, así como el Premio Grammy 2017 al Mejor Álbum de Teatro Musical. También participó en la obra 'Menier Chocolate Factory' e interpretó a Deloris Van Cartier / Sister Mary Clarence en la gira por el Reino Unido de la obra 'Sister Act'. Entre sus proyectos más recientes se encuentran los films Harriet, Needle in a Timestack, Chaos Walking, Bad Times en El Royale. y Widows, así como la serie original de HBO, The Outsider, basada en el libro del mismo título de Stephen King. En el 2020 Cynthia fue nominada en la categoría de Mejor actriz en los Premios de la Academia por su trabajo en Harriet.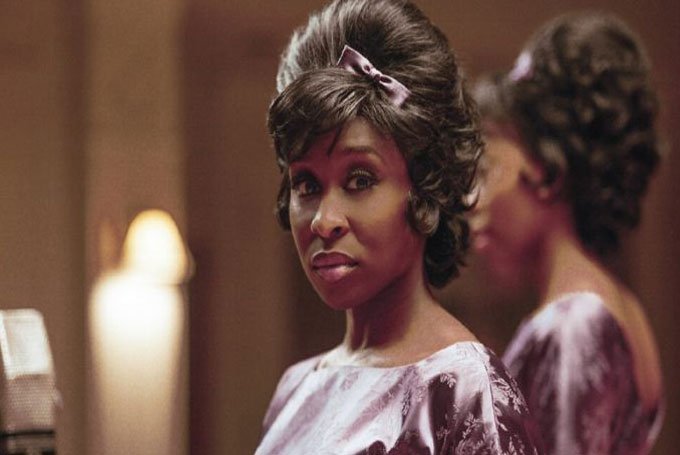 La sobrina de Franklin, Sabrina Owens, respaldó la serie y la convocatoria como protagonista a Erivo señalando: "Para Genius honrar a Aretha es una gran afirmación de su legado, y Cynthia Erivo es un talento extraordinario con una voz increíble".
Los orígenes de sus "otros nombres"
El origen del apodo de Aretha Franklin como reina del soul se sitúa a finales de los 60´s. Las versiones indican que durante una presentación en el Regal Theatre de la ciudad de Chicago, el DJ Pervis Spann la corona y la nombra en una ceremonia "la reina del soul".
Además de este nombramiento 'oficial', Franklin aparece al año siguiente en la portada del Time, en el artículo titulado 'Lady Soul Singing It Like It Is' —'La dama del soul cantando como se debe'—, aludiendo al título de su álbum 'Lady Soul' (1968) y ponderando su potente voz y su estilo vocal. Por ese motivo también se le conoce como 'la Dama de Soul'.
Reconocimientos a su trayectoria
El 3 de enero de 1987 fue la primera mujer incluida dentro del Rock and Roll Hall of Fame.
En septiembre de 1999 se le otorgó la medalla nacional de las artes.
En 2005 le entregaron la medalla de la libertad.
En 2005 se convirtió en la segunda mujer en entrar en el UK Music Hall of Fame.
En 2005, la revista Rolling Stone la situó en el puesto 9º dentro de los "100 mejores artistas de todos los tiempos"; siendo la primera mujer en la lista.
El 13 de mayo de 2006 fue nombrada "doctora en música" del Berklee College of Music.
El 5 de octubre de 2006 fue galardonada con el Golden Nest Award a una leyenda en el "African Musical Awards" celebrado en Dakar.
El 14 de mayo de 2007 fue nombrada "doctora en música" de la Universidad de Pennsylvania.
El estado de Michigan declaró su voz como "tesoro natural".
Ganadora de 18 Premios Grammys
Es la persona más joven en recibir con su nombre un Kennedy Center Honor.
Fue la primera mujer afroamericana en aparecer en la portada de la revista Time.
En 2008 fue elegida por la revista Rolling Stone como la mejor cantante de todos los tiempos.
En 2019 ha sido la primera mujer solista en recibir el Premio Pulitzer póstumo.