Noviembre es el mes mundial de la música y el elegido por Simply Red para volver al ruedo luego de 4 años de su último trabajo discográfico.
En esta oportunidad presenta "Blue Eyed Soul". Un álbum de 10 canciones que sin duda formarán parte de los futuros "clásicos" de la música contemporánea.
Hay interrogantes que surgen ante un nuevo trabajo discográfico de una banda legendaria, sobre todo luego de haber editado 11 álbunes de estudio, y son los siguientes: Que harán en esta oportunidad? Habrá nuevos hits? Podrán superar los anteriores? A continuación vamos a develar cada uno de ellos:
"Blue Eyed Soul" es un producto sumamente cuidado, prolijo, con grandes composiciones.
El nivel artístico se encuentra acorde a su discografía con arreglos musicales tan sutiles como sorprendentes.
Simply Red como grupo está en un momento fantástico y el sonido logrado en el British Grove Studios, propiedad de Mark Knopfler, donde grabaron es estupendo.
Quizás la energía del lugar amplifique la magia del grupo, ya que en ese mismo estudio The Rolling Stones grabaron recientemente su álbum 'Blue & Lonesome'.
Mick Hucknall es un crooner que tiene la suficiente experiencia y habilidad para hacer transitar a su público por distintos climas donde brillan el funk, el soul, el Rythm and blues y las infaltables baladas que estarán como favoritas en las playlist dedicadas al público adulto contemporáneo. 
Hay un secreto muy bien guardado y en este caso es saber cuál es la fórmula del éxito luego de casi 35 años de carrera. Recordemos que su primer álbum "Picture book"  en 1985 logró estar 30 semanas consecutivas en los primeros puestos de las listas inglesas. Un debut más que auspicioso. Otro de sus puntos a favor es que siempre apelaron a buenas composiciones "surfeando modas",  acoplándose por momentos y luego regresando a los orígenes del soul y el Rythm And Blues.
Otro mérito es que siempre lograron sostener el sonido característico de la banda que uno reconoce al escuchar sus primeros acordes. Es otro gran logro de  Mick Hucknall como compositor,   miembro fundador y líder de una agrupación que ha transitado por varios cambios en su formación.
El público cambia, por eso es importante contarle a las nuevas generaciones que cuando escuchen "Blue Eyed Soul" no solo se encontraran con un importante álbum de una banda sino que asistirán a una Masterclass de uno de los referentes más importantes de la música británica contemporánea.
El 2020 los encontrará más que activos ya que tienen programada una extensa gira por el Reino Unido y Europa.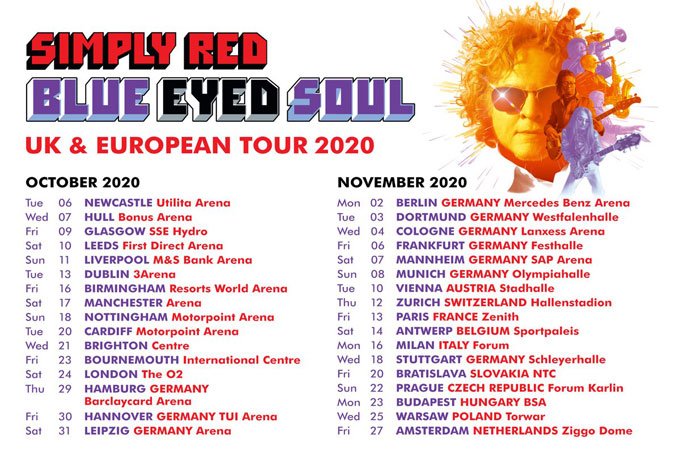 Simply Red "Blue Eyed Soul"
Picture book (1985)
Men and Women (1987)
A new flame (1989)
Stars (1991)
Life (1995)
Blue (1998)
Love and the Russian Winter (1999)
Home (2003)
Simplified (2005)
Stay (2007)
Big Love (2015)
Blue Eyed Soul (2019)